Mr. Rick Clayton - RHI (Registered Home Inspector)
LICENSED HOME INSPECTOR INC - RESIDENTIAL, COMMERCIAL & MOULD Inspections.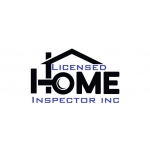 Click the (RhiOntario) link ABOVE to see our RATES and Book Online.
Residential, Apartment Buildings & Commercial Inspections.
We offer INFRARED Thermal Imaging, Mould Inspection, PLUS we Own 1 of about 5 Mould Detection Dogs here in Ontario.
Call us for your Next Inspection
Home Inspection
Apartment Buildings
Commercial Inspection
Mould Inspection
Mould remediation
Mould Air Quality testing.
Infrared Thermal Camera Scan
Mould Detection Dog
Moisture Detection
Plus receive discounts from our sister companies.
Chemical free Odour Removal, up to 6,000 square feet. www.GoodbyeOdours.com
Mould removal in attics homes, www.GoodByeMould.com
Call us now.
Licnesed Home Inspector Inc
www.LicensedHomeInspectorInc.com
Rick Clayton
RHI, Registered Home Inpector
CMI, Certified Master Inspector
WRT, Water Restoration Tech (Water Damage)
AMRT, Applied Microbial Remediation Technician 
Call or txt 519.572.7896
Click the (Lhi) link ABOVE to see our RATES and Book Online.
---
Languages Spoken
English
---
Regions Served
Brantford, Cambridge, Guelph, Kitchener - Waterloo, Woodstock - Ingersoll